Principal's Messages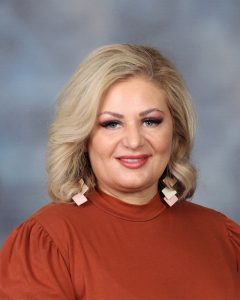 Dear Sandstone Families,
Welcome Back!
I hope you are enjoying a wonderful summer. I hope you are relaxed, recharged, and ready to start a new school year. I am so excited for the upcoming school year! I welcome and value your positivity and enthusiasm for education, and I look forward to working with you and your children.
We have been working hard over the summer and look forward to another positive and productive school year! Our talented and devoted staff members are planning and preparing for your child(ren). Our devoted office members are registering new families, ordering needed materials, and updating student files. Our hard-working and conscientious custodians have thoroughly cleaned the facility the entire summer. And our much-appreciated PTA is gearing up to welcome families, provide volunteer opportunities, and plan other exciting events. We are an industrious and enthusiastic community with the common goals of nurturing responsible, caring students and promoting high levels of learning.
Schedule Change
Lunch Information
Lunch meal information and the application for free or reduced lunch can be found at this link:
https://www.washk12.org/food-service/menus
School lunch will be free for every student; however, much of our funding comes from title one. Please be sure to complete an application if you think you might qualify because there are additional benefits.
New Staff
Each year brings positive change. This includes a few additions to our staff. We are excited to welcome Emily Liechty (Kinder), Sydnee Lim (Kinder), Brittany Barker (Kinder), Heather Skaggs (Kinder), Carolyn Snow (First Grade), McKensi Lund (First Grade), and MacKenzie Gillespie (Reading Interventionist). We also have a few teachers moving grade levels. Macie Gardner (Second Grade), Sami Smith (Second Grade), Kim Peterson (Third Grade), and Peter Skouson (Fifth Grade).
Facilities Update
We have new paper towel dispensers and fresh paint in our library, portables, computer labs, and many of our classrooms. We also had a paint touch-up on our outside playgrounds.
Student Placement
Much time, effort, and thought has gone into the 2023-24 school year student placement process. We held a "Meet and Greet" with teachers at the end of the year in May, and class lists will also be posted on the front windows on August 1st. Careful consideration was given to creating classrooms with input from staff and families and student learning styles. Classrooms have been balanced academically and socially. Our class lists are structured to provide equitable class sizes at each grade level.
Kindergarten Information
Kindergarten classes will be announced after the KEEP Assessment on August 8th and 9th. Friday, August 14th will be the Kindergarten Open House.
Class Supplies
Upcoming Dates
August 2nd – Home Visits. Your child's teacher will drop by for a door visit between 8:00 am and noon. If you are not there, they will leave welcome-back information.
August 14th – 5:00-7:30 pm – Back to School Swim Party. We are excited to see our families and enjoy an evening of swimming!
August 14th – Open House from 4:00 pm – 5:30 pm
August 15th – 9:00 – 3:30. Classrooms will be open at 8:50 am for students. Breakfast starts at 8:30 am.
August 25th and 28th – Diagnostic Assessments. There will be no school on those days. Please look for appointment information from your child's teacher. We are excited to see all of our families during these very important assessments!
Thank you to all who are helping prepare for the new school year. Your commitment to ensuring that Sandstone remains a celebrated and successful school is awe-inspiring. I eagerly look forward to greeting students and families again. It is an honor and privilege to serve as your principal. Please stop by and say hello. I know we will make this school year one of growth and achievement for all children.
Warmest Regards,
Melissa Dietzel